December 2020: Rate Decision & Analysis
The Reserve Bank of Australia ("RBA") left the official cash rate at 0.10% at its December meeting.
This was obviously not a surprise to markets that had already absorbed last month's drop in the cash rate - from 0.25% to 0.10%.
This is reflected in flat market interest rates; with all short term rates with nowhere really to go. (see Money Markets below).
From an economic perspective there was some positive data.
The latest ATO data demonstrated that the reliance on JobKeeper has reduced significantly. In fact, there are 700,000 fewer people than forecast in the recent Federal Budget. This is a positive indicator that the economy is recovering faster than originally anticipated. These numbers also tie in with the news that 650,000 new jobs were created over recent months.
We should also get some positive news this week that we are officially out of "recession", with the former two quarters of negative GDP to be offset by a positive contribution in the latest set of numbers.
In other sentiment measures, consumer confidence continues its rise. ANZ-Roy Morgan Consumer Confidence increased 3 points in November and is now well above the 2020 weekly average, and now at a level very near pre Covid levels.
Business Health
The RBA data below gives some current insights into current business health. Pre-Covid, only half of Australian SMEs had sufficient cash to meet expenses for more than one month.
Fast forward to June 2020, more than 40% of businesses reported they had sufficient savings to cover their current expenses for more than six months, with only around 10% having less than one month.
This obviously shows the impact of the level of income support and the fact that the majority of businesses in Australia are quite small.
Large businesses have also worked hard to improve their cash position. This is largely through a focus on reducing expenses and having more cash on hand for both volatility and opportunities.
Whilst these results are satisfactory, some further RBA survey evidence indicates that around 25% of SMEs currently receiving income support would close if the support measures were removed now, before an improvement in economic conditions arrives. Here is an opportunity out of this for some education around managing the financial strength of a business.
Money Markets
The RBA strategy of buying bonds to effectively tie the three-year rate to the cash rate, has been a good one for stability.
The activity is now focused on longer term money, and hence why there is more movement in 5 and 10 year bonds for example. This will provide support for Government deficits, with the Reserve Bank indicating it will continue to buy $100 billion of bonds between 5- and 10-year maturities as part of its stimulus objectives.
Meanwhile, the market had already processed the prospect of a rate cut last month, as short term rates remained at their record lows.
| | | | |
| --- | --- | --- | --- |
| Month | Cash Rate | 90 Bill Rate | 10 Year Bond |
| September 2020 | 0.25% | 0.12% | 0.84% |
| October 2020 | 0.25% | 0.10% | 0.90% |
| November 2020 | 0.10% | 0.05% | 0.81% |
| December 2020 | 0.10% | 0.05% | 0.90% |

Property
In the residential market, data from CoreLogic listed below, follows the very strong anecdotal sentiment that we are seeing in the market at present, with increases in all markets, including regionals and even previous tough market like Perth.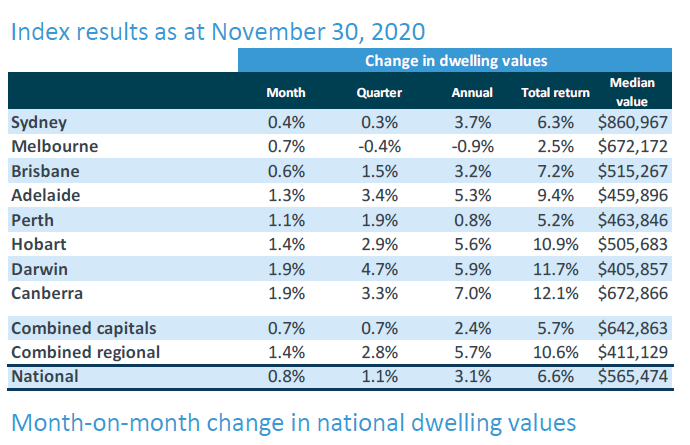 Extrapolating these results over a longer period, all major markets have reversed previous losses (with the exception of Melbourne). This strength has many commentators concerned that further upward momentum in residential property prices is underway.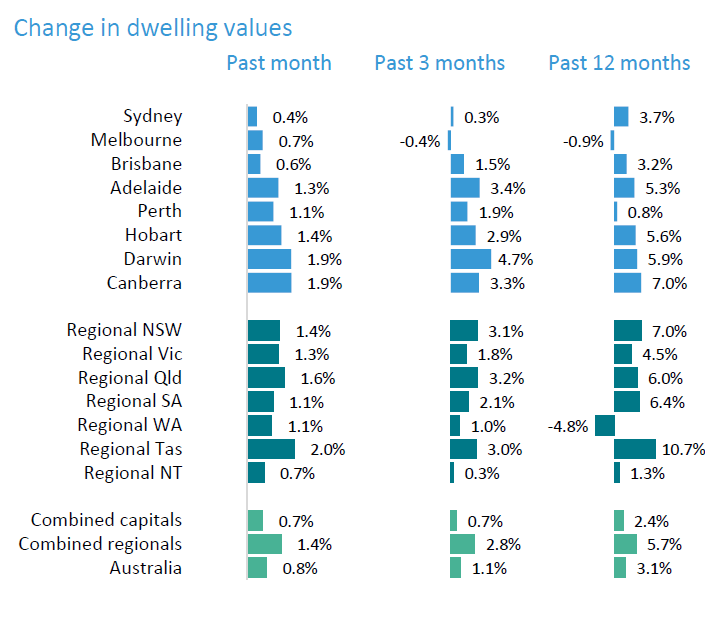 Commercial Property
Commercial Office property data from the RBA/JLL is showing that vacancy rates for both the Sydney and Melbourne CBD's approaching 10%.
The issue is compounded with more new office buildings being ready in Sydney and Melbourne in 2020. These new buildings have pre-committed tenants; however, it will put further pressure on vacancy rates in other older assets.
Currency
The currency strengthened significantly this month partially on the back of a weaker USD.
The strength of commodity prices, including iron ore in particular also is driving our currency higher.
As we have discussed previously, this has a direct impact for the RBA. It will further drive their commitment to buying a quantity of long-term bonds with the objective to lower interest rates.
Until next time.
------------------------------------------------------------------------